Post-Olympics Art Projects: Views from Interactions between Streetwise Opera/Arts & Homelessness Int and Cocoroom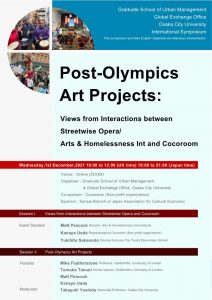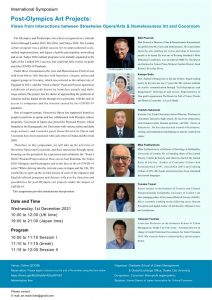 We will hold at International Symposium on Wednesday,1st December,2021.
The title as follows;Post-Olympics Art Projects:Views from Interactions between Streetwise Opera/Arts & Homelessness Int and Cocoroom
The Olympics and Paralympics have been recognized as a cultural festival through London 2012, Rio 2016, and Tokyo 2020. The London culture program was a global success for its unprecedented scale,unified implementation, and legacy of public participation, networking and so on. Tokyo 2020 cultural programs were initially organized in the light of the London 2012 success, but could not fully realize its goals amid the COVID-19 Pandemic.
Under these circumstances,the Arts and Homelessness Festival was held from 8th to 16th October with homeless, citizens, artists and support groups in Coventry, which was selected as the cultural city of England in 2021, and the "Send a Smile" Postcard Project opened an exhibition of postcards drawn by homeless people and daily wage-earners.The project has the theme of approaching the problems of isolation and the digital divide through art in particular, with the lack of access to computers and the internet caused by the COVID-19 pandemic.
One of support groups, Streetwise Opera has supported homeless people to perform in operas and has collaborated with Olympic culture programs. Cocoroom in Japan also joined the Postcard Project, which founded at the Kamagasaki Art University with various artists and daily wage-earners, and created a guest house.Streetwise Opera and Cocoroom have been interacted with each other in Osaka and Rio from 2009.
Therefore, in this symposium, we will take up the activities of Streetwise Opera and Cocoroom, and their interaction through opera, focusing on the potentials for expression and solidarity the "Send a Smile" Postcard Project aims at. How can we best illuminate the Tokyo 2020 Olympics and Paralympics and in the face of the of COVID-19 crisis? While delving into the relevant cases in Japan and the UK, We would like to open up the overall picture of each of the Japanese and English cultural programs and discuss with you the direction and possibilities for post-Olympics art projects under the impact of COVID-19.
This symposium provides simultaneous interpretation.
Date and Time
Wednesday,1st December,2021
10:00 to 12:00 (UK time)
19:00 to 21:00 (Japan time)
Program
10:00 to 11:10 Session I
11:10 to 11:15 (break)
11:15 to 12:00 Session II
International Symposium
Post-Olympics Art Projects:
Views from Interactions between Streetwise Opera/Arts & Homelessness Int and Cocoroom
Venue: Online (ZOOM)
Reservation: Please apply in advance by the end of November using the form below.
https://forms.gle/M5GAzMzhR3zuWVtS7
Admission Free
Please contact.
E-mail: art.machi.ken@gmail.com
Organizer: Graduate School of Urban Management & Global Exchange Office, Osaka City University
Co-sponsor: Cocoroom (Non-profit organization)
Sponsor: Kansai Branch of Japan Association for Cultural Economic
[Profile]
Matt Peacock
Matt Peacock is Director of Arts & Homelessness International,the global network of arts and homelessness. He is passionate
about the arts enabling the voices and ideas of homeless people to be heard. He was one of Evening Standard's Most
Influential Londoners, was awarded an MBE by The Queen and featured in former Prime Minister Gordon Brown's book
Britain's Everyday Heros.
Kanayo Ueda
Poet. Started writing poetry at the age of three, began reading poetry by the time she was 17 years old. She explores methods
of creative communication through "Self-dependence and Imagination" affecting art and society. Representative of
Non-profit organization The Room for Full of Voice, Words,and Hearts (Cocoroom) . Lives in Osaka.
Yukihito Sakamoto
Kaizuka City Tsuda Elementary School Director. Working for elementary and junior high school. He has been enthusiastic about human rights, Buraku problem, and NIE(News in Education) . He has educated and learned with students, valuing self-examination and thinking on what he could do for others.
Mike Featherstone
Mike Featherstone is a Professor of Sociology at Goldsmiths, University of London. He is founding editor of the journal Theory, Culture & Society and editor-in-chief of the journal Body & Society. Author of Consumer Culture and Postmodernism (1991, 2nd edition 2007) and Undoing Culture (1995). His books and articles have been translated into sixteen languages.
Tomoko Tamari
Senior lecturer in the Institute of Creative and Cultural Entrepreneurship Goldsmiths, University of London. I am also managing editor of the journal Body & Society (SAGE).She is currently working on the following areas: Human Perception and digital media; AI and Society; Olympic Cities and Architecture.
Takayuki Yoshida
Associate Professor in the Graduate School of Urban Management, Osaka City University. Assistant director in charge of Aichi Prefectural Government for Aichi Triennale 2010. My research theme is cultural policy and art project theory.